Emmett Vogan
American actor
Died when: 76 years 9 days (912 months)
Star Sign: Libra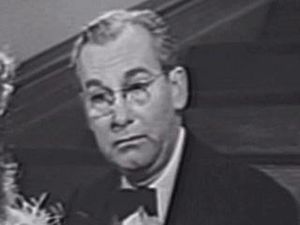 Charles Emmett Vogan (September 27, 1893 – October 6, 1969) was an American actor with almost 500 film appearances from 1934 to 1954, making him, along with Bess Flowers, one of the most prolific film actors of all time.

In 1913, Vogan acted with the Allen and Kenna Musical Comedy Company.In 1917, he was the male lead in a touring company that presented The Four Husbands.

He also was the male lead in the touring production of Too Much Mustard (1924).Vogan also acted with the Anderson Players, the Wilkes Players, and the O.D.

Woodward group, in addition to having a headline vaudeville act.


---