Enid Lyons
Australian politician
Died when: 84 years 55 days (1009 months)
Star Sign: Cancer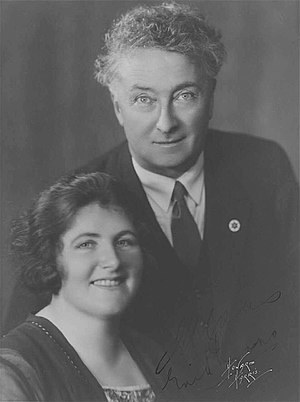 Dame Enid Muriel Lyons AD, GBE (née Burnell; 9 July 1897 – 2 September 1981) was an Australian politician who was the first woman elected to the House of Representatives and the first woman to serve in federal cabinet.

Prior to her own political career, she was best known as the wife of Joseph Lyons, who was Prime Minister of Australia (1932–1939) and Premier of Tasmania (1923–1928).

Lyons was born in Smithton, Tasmania.She grew up in various small towns in northern Tasmania, and trained as a schoolteacher.

At the age of 17, she married politician Joseph Lyons, who was almost 18 years her senior.They would have twelve children together, all but one of whom lived to adulthood.

As her husband's career progressed, Lyons began assisting him in campaigning and developed a reputation as a talented public speaker.

In 1925, she became one of the first two women to stand for the Labor Party at a Tasmanian state election.

She followed her husband into the new United Australia Party (UAP) following the Labor split of 1931.After her husband became prime minister in 1932, Lyons began living at The Lodge in Canberra.

She was one of the best-known prime minister's wives, writing newspaper articles, making radio broadcasts, and giving open-air speeches.Her husband's sudden death in office in 1939 came as a great shock, and she withdrew from public life for a time.

At the 1943 federal election, Lyons successfully stood for the UAP in the Division of Darwin.She and Senator (Dame) Dorothy Tangney became the first two women elected to federal parliament.

Lyons joined the new Liberal Party in 1945, and served as Vice-President of the Executive Council in the Menzies Government from 1949 to 1951 – the first woman in cabinet.

She retired from parliament after three terms, but remained involved in public life as a board member of the Australian Broadcasting Commission (1951–1962) and as a social commentator.


---