Ernest Albert Corey
Highly decorated Australian soldier
Died when: 79 years 249 days (956 months)
Star Sign: Sagittarius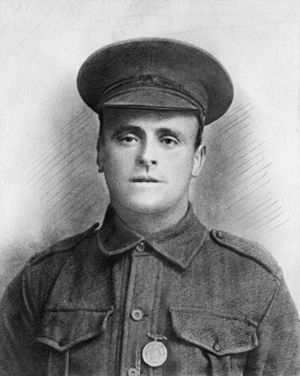 Ernest Albert Corey, MM & Three Bars (20 December 1891 – 25 August 1972) was a distinguished Australian soldier who served as a stretcher bearer during the First World War.

He enlisted in the Australian Imperial Force on 13 January 1916, and was allocated to the 55th Battalion, where he was initially posted to a grenade section before volunteering for stretcher bearing duties.

In 1917 he was twice awarded the Military Medal for his devotion to duty in aiding wounded soldiers, and twice again in 1918; becoming the only person to be awarded the Military Medal four times.

Born in New South Wales, Corey was employed as a blacksmith's striker upon leaving school.In January 1916, he became a member of the "Men from Snowy River" recruiting march, enlisting in Goulburn.

Returning to Australia after the Armistice, he was discharged on medical grounds in 1919 and was employed in a number of jobs before re-enlisting in a militia battalion for service in the Second World War.

He died in 1972 and was buried with full military honours in the Ex-Servicemen's section of Woden Cemetery, Australian Capital Territory.


---