Ernest Everett Just
American marine biologist
Died when: 58 years 74 days (698 months)
Star Sign: Leo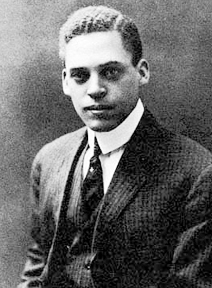 Ernest Everett Just (August 14, 1883 – October 27, 1941) was a pioneering African-American biologist, academic and science writer.Just's primary legacy is his recognition of the fundamental role of the cell surface in the development of organisms.

In his work within marine biology, cytology and parthenogenesis, he advocated the study of whole cells under normal conditions, rather than simply breaking them apart in a laboratory setting.

Born to Charles Jr. and Mary Matthews Just on August 14, 1883.His father and grandfather, Charles Sr., were builders.When Ernest was four years old, both his father and grandfather died (the former of alcoholism).

Just's mother became the sole supporter of Just, his younger brother, and his younger sister.Mary Matthews Just, taught at an African-American school in Charleston to support her family.

During the summer, she worked in the phosphate mines on James Island.Noticing that there was much vacant land near the island, Mary persuaded several black families to move there to farm.

The town they founded, now incorporated in the West Ashley area of Charleston, was eventually named Maryville in her honor.

When Just was young, he became severely sick for six weeks with typhoid.Once ssed, he had a hard time recuperating, and his memory had been greatly affected.

He had previously learned to read and write, but now had to relearn.His mother had been very sympathetic in teaching him, but after a while she gave up.

Hoping Just would become a teacher, at the age of 13 his mother sent him to the "Colored Normal Industrial Agricultural and Mechanical College of South Carolina", the only 1890 land grant school for the education of Negros in South Carolina, later known as South Carolina State University in Orangeburg, South Carolina.

Believing that schools for blacks in the south were inferior, Just and his mother thought it better for him to go north.

At the age of 16, Just enrolled at the Meriden, New Hampshire, college-preparatory high school Kimball Union Academy.During Just's second year at Kimball, he returned home for a visit only to learn that his mother had been buried an hour before he arrived.

Despite this hardship, Just completed the four-year program in only three years and graduated in 1903 with the highest grades in his class.

Just went on to graduate magna cum laude from Dartmouth College in Hanover, New Hampshire.There, Just developed an interest in biology after learning about fertilization and egg development.

Just won special honors in zoology, and distinguished himself in botany, history, and sociology as well.He was also honored as a Rufus Choate scholar for two years and was elected to Phi Beta Kappa.

Just was also a candidate to deliver a commencement speech, but was not chosen because the faculty "decided it would be a faux pas to allow the only black in the graduating class to address the crowd of parents, alumni, and benefactors.

It would have made too glaring the fact, that Just had won just about every prize imaginable." Including, honors in botany, sociology, and history.


---