Ernest G. Eberhard
German musician
Died when: 70 years 231 days (847 months)
Star Sign: Gemini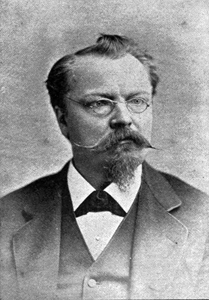 Ernest G.Eberhard (May 30, 1839 - January 16, 1910) was a German immigrant who founded the Grand Conservatory of New York City, of which he was president for about 40 years.

He was also an organist, conductor of choral societies and orchestras, author of musical instruction books and a publisher.Eberhard founded the Grand Conservatory in 1874, with some help from the New York State Legislature.

At a graduation ceremony, Theodore Roosevelt (then a state congressman), admitted to being involved in the legislation which allowed the conservatory to offer a Musical Doctor degree.

Ernst Eberhard was the first to receive the doctorate.


---