Ernest Psichari
French naturalist
Died when: 30 years 329 days (370 months)
Star Sign: Libra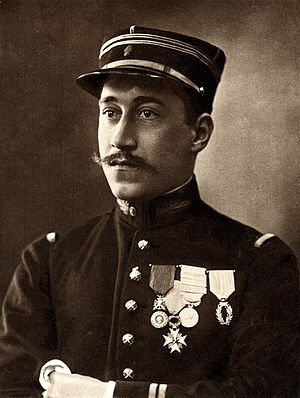 Ernest Psichari (27 September 1883 – 22 August 1914) was a French author, religious thinker and soldier.The son of noted intellectual Ioannis Psycharis and grandson of liberal writer Ernest Renan, Psichari was baptised into the Greek Orthodox faith.

After a troubled upbringing which saw him attempt suicide over an unrequited love, Psichari entered the army for his national service.

Enjoying military life, he re-enlisted in the ranks and transferred to the Troupes coloniales in search of adventure abroad.He saw service in the French Congo and Mauritania and wrote a number of militaristic autobiographical works that proved popular with French nationalists.

Converting to Catholicism in 1913, Psichari considered becoming a priest but instead decided he could better serve his church in the army.

Fighting in the defence of Belgium in August 1914 during World War I, he was killed at Rossignol during the Battle of the Frontiers.


---