Ernst Dohm
German actor
Died when: 63 years 257 days (764 months)
Star Sign: Gemini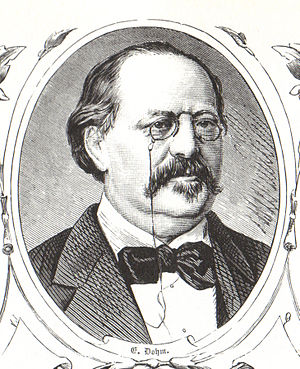 Friedrich Wilhelm Ernst (or Ernest) Dohm (born Elias Levy Dohm; also known by his pseudonym Karlchen Mießnick; 24 May 1819, Breslau – 5 February 1883, Berlin) was a German editor, actor, and translator.

He was Jewish and a convert to Christianity.He married the feminist Hedwig Dohm and had five children: 1. * Hans Ernst Dohm (1854–1866) 2. * (Gertrud) Hedwig (Anna) Dohm (1855–1942), married to the Jewish scientist Alfred Pringsheim 3. * Ida Marie Elisabeth Dohm (1856–?) 4. * Marie Pauline Adelheid Dohm (1858–?) 5. * Eva Dohm (1860–?) He became a grandfather of the musician Klaus Pringsheim Sr. and Katharina "Katia" Pringsheim, the wife of Thomas Mann.

He was a chief-editor of Kladderadatsch, a satirical magazine founded in 1848, until 1849.


---