Ernst Julius Gurlt
German surgeon
Died when: 73 years 118 days (879 months)
Star Sign: Virgo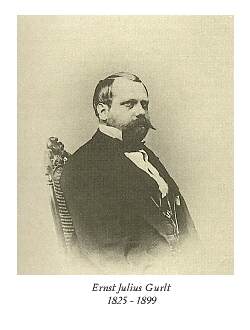 Ernst Julius Gurlt (13 September 1825 - 9 January 1899) was a German surgeon born in Berlin.He was the son of veterinarian Ernst Friedrich Gurlt (1794–1882).

He studied medicine in Berlin, where he later became an assistant to Bernhard von Langenbeck.In 1853 he received his habilitation for surgery, becoming an associate professor in 1862 at the University of Berlin.

He gained battle-related surgical experience during the First Schleswig War (1848), Second Schleswig War (1864), Austro-Prussian War (1866) and the Franco-Prussian War (1870/71).Gurlt specialized in the treatment and research of bone and joint injuries.

He is remembered for studies conducted in the field of medical statistics.


---