Sarah T. Hughes
American politician
Died when: 88 years 264 days (1064 months)
Star Sign: Leo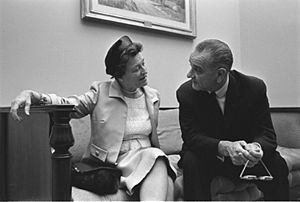 Sarah Tilghman Hughes (August 2, 1896 – April 23, 1985) was an American lawyer and federal judge who served on the United States District Court for the Northern District of Texas.

She is best known as the judge who swore in Lyndon B.Johnson as President of the United States on Air Force One after John F.

Kennedy was assassinated in Dallas on November 22, 1963.She was the first and only woman to have sworn in a US President.

The photo depicting Hughes administering the oath of office to Johnson is widely viewed as the most famous photo ever taken aboard Air Force One.


---