Frank Costello
Italian-American crime boss
Died when: 82 years 23 days (984 months)
Star Sign: Aquarius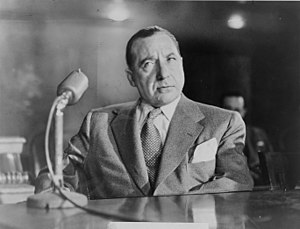 Frank Costello (Italian: [koˈstɛllo]; born Francesco Castiglia; [fraɲˈtʃesko kaˈstiʎʎa];January 26, 1891 – February 18, 1973) was an Italian-American crime boss of the Luciano crime family.

In 1957, Costello survived an assassination attempt ordered by Vito Genovese and carried out by Vincent Gigante.However, the altercation persuaded Costello to relinquish power to Genovese and retire.

Costello died on February 18, 1973.


---