Frank Forde
Australian politician
Died when: 92 years 194 days (1110 months)
Star Sign: Cancer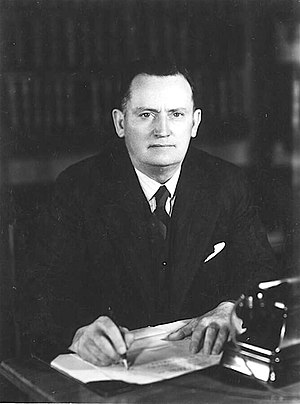 Francis Michael Forde (18 July 1890 – 28 January 1983) was an Australian politician who served as prime minister of Australia from 6 to 13 July 1945.

He was the deputy leader of the Australian Labor Party (ALP) from 1932 to 1946.He served as prime minister in a caretaker capacity after the death of John Curtin, and is the shortest-serving prime minister in Australia's history.

Forde was born in Mitchell, Queensland, to Irish immigrant parents.He eventually settled in Rockhampton, and was a schoolteacher and telegraphist before entering politics.

Having joined the ALP at a young age, Forde was elected to the Queensland Legislative Assembly in 1917, aged 26.He transferred to the House of Representatives at the 1922 federal election, winning the Division of Capricornia.

Forde was an assistant minister and minister in the Scullin Government from 1929 to 1932, and was largely responsible for the government's tariff policy.

He entered the cabinet in 1931 as Minister for Trade and Customs.After Labor's landslide defeat at the 1931 election, Forde was elected deputy leader in place of Ted Theodore.

He was expected to become party leader after Scullin's retirement in 1935 but lost to John Curtin by one vote.He returned to cabinet in 1941 as Minister for the Army in the Curtin Government, and as the de facto deputy prime minister was one of the government's most prominent figures.

When John Curtin died in office in 1945, Forde was appointed prime minister to serve while the Labor Party elected a new leader.

He contested the leadership ballot against Ben Chifley and Norman Makin, but Chifley emerged victorious.Forde continued on as deputy leader and army minister in the Chifley Government, but lost his seat at the 1946 election.

He then served as High Commissioner to Canada from 1947 to 1953.Forde attempted to re-enter federal parliament in 1954, but was unsuccessful.

He won a state by-election in Queensland the following year – the only former prime minister to enter state parliament – but served only a single term before again being defeated.

Forde died at the age of 92, and was accorded a state funeral;Gough Whitlam is the only prime minister to have lived to a greater age.


---