Frank Gatski
American football player
Died when: 84 years 249 days (1016 months)
Star Sign: Pisces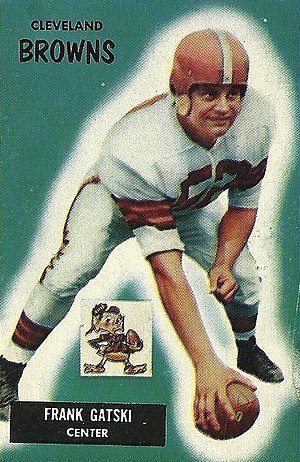 Frank "Gunner" Gatski (March 18, 1921 – November 22, 2005) was an American football center who played for the Cleveland Browns of the All-America Football Conference (AAFC) and the National Football League (NFL) in the 1940s and 1950s.

Gatski was one of the most heralded centers of his era.Known for his strength and consistency, he helped protect quarterback Otto Graham and open up running lanes for fullback Marion Motley as the Browns won seven league championships between 1946 and 1955.

Gatski won an eighth championship after he was traded to the Detroit Lions in 1957, his final season.Gatski was born in West Virginia to a coal-mining family.

He played for three years on his local high school team before attending Marshall University, where he continued to play football.

He joined the U.S.Army in 1942 and went to fight in World War II.Upon his return in 1945, he played in a couple of games at Auburn University in Alabama, before officials found out he had attended and played for Marshall, and took classes.

After graduating, he tried out and made the roster for the Browns, a team under formation in the new AAFC thanks to Johnny Brickels, the former Huntington High School football coach who knew Paul Brown (Ed Ulinski of Marshall also tried out, played and later coached the Browns) after another former Marshall player, Sam Clagg, alerted Brickels to the two players.

Gatski played as a linebacker and backup center for most of his first two years before earning a spot as the starting center.

He retained that position as Cleveland continued to dominate the AAFC, going 47-4-2 and winning four championships before the league dissolved and the Browns, the San Francisco 49ers and Baltimore Colts were absorbed by the NFL in 1950.

Gatski and the Browns won the 1950, 1954 and 1955 titles, losing in the title game in 1951-52-53.He retired after the 1957 season when he won an eighth title with the Detroit Lions, never having missed a game or practice in his career.

After leaving football, Gatski worked briefly as a scout for the Boston Patriots.He then joined a reform school in West Virginia as athletic director and head football coach, staying there until the school closed in 1982.

He was elected to the Pro Football Hall of Fame in 1985.Marshall retired Gatski's number 72 in 2005, the only football number retired for the Thundering Herd.

He died that year in a nursing home in West Virginia.In 2006, the East End Bridge in Huntington, West Virginia was renamed the Frank Gatski Memorial Bridge in his honor.


---