Frank Gifford
American football player
Died when: 84 years 358 days (1019 months)
Star Sign: Leo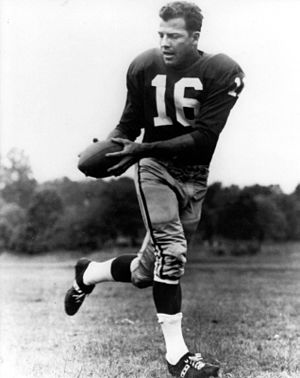 Francis Newton Gifford (August 16, 1930 – August 9, 2015) was an American football player, actor, and television sports commentator.After a 12-year playing career as a halfback and flanker for the New York Giants of the National Football League (NFL), he was a play-by-play announcer and commentator for 27 years on ABC's Monday Night Football.

Gifford won the NFL Most Valuable Player Award from United Press International in 1956, the same season his team won the NFL Championship.

During his career, he participated in five league championship games and was named to eight Pro Bowls.He was inducted into the Pro Football Hall of Fame in 1977.

After retiring as a player, Gifford was an Emmy Award-winning sportscaster, known for his work on ABC's Monday Night Football, Wide World of Sports and the Olympics.

He was married to television host Kathie Lee Gifford from 1986 until his death.


---