John Frederick Kensett
American artist
Died when: 56 years 267 days (680 months)
Star Sign: Aries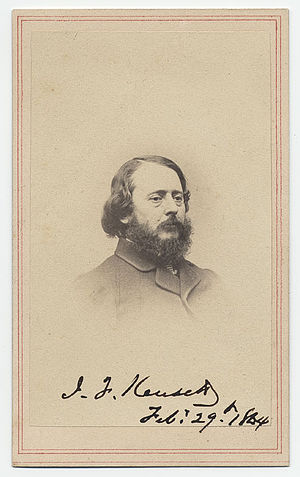 John Frederick Kensett (March 22, 1816 – December 14, 1872) was an Americanlandscape painter and engraver born in Cheshire, Connecticut.A member of the second generation of the Hudson River School of artists, Kensett's signature works are landscape paintings of New England and New York State, whose clear light and serene surfaces celebrate transcendental qualities of nature, and are associated with Luminism.

Kensett's early work owed much to the influence of Thomas Cole, but was from the outset distinguished by a preference for cooler colors and an interest in less dramatic topography, favoring restraint in both palette and composition.

The work of Kensett's maturity features tranquil scenery depicted with a spare geometry, culminating in series of paintings in which coastal promontories are balanced against glass-smooth water.

He was a founder of the Metropolitan Museum of Art.


---