Franklin Sousley
United States Marine
Died when: 19 years 183 days (234 months)
Star Sign: Virgo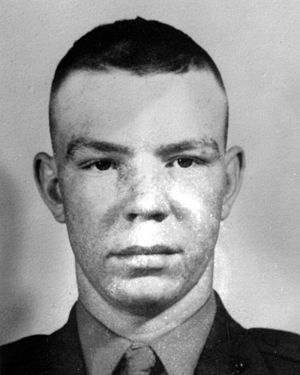 Franklin Runyon Sousley (September 19, 1925 – March 21, 1945) was a United States Marine who was killed in action during the Battle of Iwo Jima in World War II.

He was one of the six Marines who raised the second of two U.S. flags on top of Mount Suribachi on February 23, 1945, as shown in the iconic photograph Raising the Flag on Iwo Jima.

The first flag raised and flown over the mountain at the south end of Iwo Jima was regarded to be too small to be seen by the thousands of Marines fighting on the other side of Iwo Jima, so it was replaced on the same day by a larger one.

Although there were photographs taken of the first flag flying on Mount Suribachi after it was captured, there was no single photograph taken of Marines raising the flag.

The second flag raising became famous and took precedence over the first flag raising after the photograph of it appeared worldwide in newspapers.

The second flag raising was also filmed in color.The Marine Corps War Memorial in Arlington, Virginia, was modeled after the historic photograph of six Marines raising the flag on Iwo Jima.


---