Vince Lombardi
American football coach
Died when: 57 years 84 days (686 months)
Star Sign: Gemini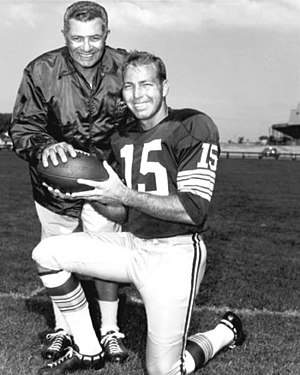 Vincent Thomas Lombardi (June 11, 1913 – September 3, 1970) was an American football coach and executive in the National Football League (NFL).Lombardi is considered by many to be the greatest coach in football history, and he is recognized as one of the greatest coaches and leaders in the history of all American sports.

He is best known as the head coach of the Green Bay Packers during the 1960s, where he led the team to three straight and five total NFL Championships in seven years, in addition to winning the first two Super Bowls at the conclusion of the 1966 and 1967 NFL seasons.

Lombardi began his coaching career as an assistant and later as a head coach at St.Cecilia High School in Englewood, New Jersey.

He was an assistant coach at Fordham, the United States Military Academy and the New York Giants before becoming head coach of the Green Bay Packers from 1959 to 1967 and the Washington Redskins in 1969.

He never had a losing season as head coach in the NFL, compiling a regular-season winning percentage of 73.8% (96–34–6), and 90% (9–1) in the postseason for an overall record of 105 wins, 35 losses and 6 ties in the NFL.

The year after his sudden death from cancer in 1970, he was enshrined in the Pro Football Hall of Fame, and the NFL Super Bowl trophy was named in his honor.


---