Gene Wolfe
American science fiction and fantasy writer
Died when: 87 years 342 days (1055 months)
Star Sign: Taurus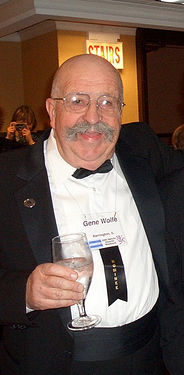 Gene Rodman Wolfe (May 7, 1931 – April 14, 2019) was an American science fiction and fantasy writer.He was noted for his dense, allusive prose as well as the strong influence of his Catholic faith.

He was a prolific short story writer and novelist, and won many literary awards.Wolfe has been called "the Melville of science fiction", and was honored as a Grand Master by the Science Fiction and Fantasy Writers of America.

Wolfe is best known for his Book of the New Sun series (four volumes, 1980–1983), the first part of his "Solar Cycle".

In 1998, Locus magazine ranked it the third-best fantasy novel published before 1990 based on a poll of subscribers that considered it and several other series as single entries.


---