Gene Wood
Game show host
Died when: 78 years 214 days (943 months)
Star Sign: Libra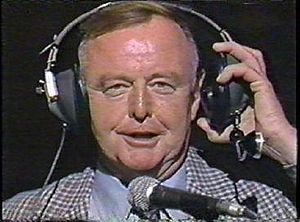 Eugene Edward Wood (October 20, 1925 – May 21, 2004) was an American television personality, known primarily for his work as an announcer on various game shows.

From the 1960s to the 1990s, he announced many game shows, primarily Mark Goodson–Bill Todman productions such as Family Feud, Classic Concentration, Card Sharks, Password, and Beat the Clock.

Wood also served a brief stint as a host on this last show, and on another show, Anything You Can Do.

After retiring from game shows in 1996, Wood worked as an announcer for the Game Show Network until his retirement in 1998.


---