Henry Bellmon
American politician
Died when: 88 years 26 days (1056 months)
Star Sign: Virgo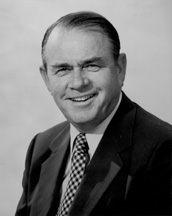 Henry Louis Bellmon (September 3, 1921 – September 29, 2009) was an American Republican politician from the U.S.State of Oklahoma.A member of the Oklahoma Legislature, he went on to become both the 18th and 23rd governor of Oklahoma, mainly in the 1960s and again in the 1980s, as well as a two-term United States Senator in the 1970s.

He was the first Republican to serve as Governor of Oklahoma and, after his direct predecessor George Nigh, only the second governor to be reelected.

A World War II veteran, Bellmon served a single term in the Oklahoma House of Representatives, before running for governor.

After serving in the U.S.Senate, he returned to serve again as governor and was responsible for passing a large education reform package.

He died in 2009 after a long struggle with Parkinson's disease.


---