Goodwill Zwelithini
King of the Zulu nation
Died when: 72 years 241 days (871 months)
Star Sign: Cancer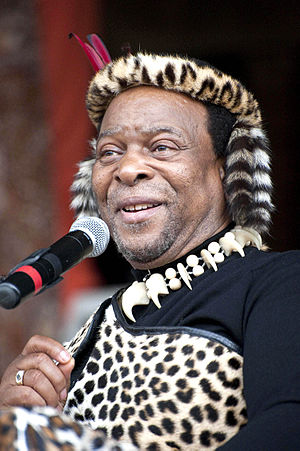 King Goodwill Zwelithini kaBhekuzulu (27 July 1948 – 12 March 2021) was the reigning King of the Zulu nation from 1968 to his death.He became King on the passing on of his father, King Cyprian Bhekuzulu, in 1968.

Prince Israel Mcwayizeni acted as the regent from 1968 to 1971 while the King took refuge in the then Transvaal province of South Africa for three years to avoid assassination.

After his 21st birthday and his first marriage, Zwelithini was installed as the eighth monarch of the Zulus at a traditional ceremony at Nongoma on 3 December 1971, attended by 20,000 people.

Zwelithini died on 12 March 2021, aged 72, after reportedly being admitted to hospital for diabetes-related illness.During preparations for his funeral, the king's traditional prime minister, Mangosuthu Buthelezi, announced that he had died of COVID-19.


---