Hal Blaine
American drummer
Died when: 90 years 34 days (1081 months)
Star Sign: Aquarius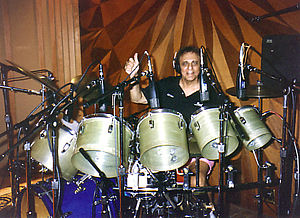 Hal Blaine (born Harold Simon Belsky;February 5, 1929 – March 11, 2019) was an American drummer and session musician, estimated to be among the most recorded studio drummers in the history of the music industry, claiming over 35,000 sessions and 6,000 singles.

His drumming is featured on 150 US top 10 hits, 40 of which went to number one, as well as many film and television soundtracks.

Born in Holyoke, Massachusetts, Blaine moved with his family to California in 1943 and subsequently began playing jazz and big band music before taking up rock and roll session work.

He became one of the regular players in Phil Spector's de facto house band, which Blaine nicknamed "the Wrecking Crew".

Some of the records Blaine played on include the Ronettes' single "Be My Baby" (1963), which contained a drum beat that became widely imitated, as well as works by popular artists such as Frank Sinatra, Elvis Presley, the Beach Boys, Simon & Garfunkel, the Carpenters, Neil Diamond, and the Byrds.

Blaine's workload declined from the 1980s onwards as recording and musical practices changed.In 2000, he was among the inaugural "sidemen" inductees to the Rock and Roll Hall of Fame, in 2007 he was inducted into the Musicians Hall of Fame and Museum as a member of the Wrecking Crew, and in 2018 he received a Grammy Lifetime Achievement Award.


---