Hans-Jochen Vogel
Mayor of Munich
Died when: 94 years 174 days (1133 months)
Star Sign: Aquarius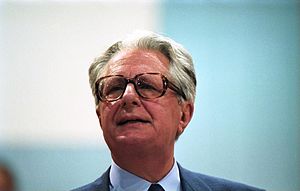 Hans-Jochen Vogel (3 February 1926 – 26 July 2020) was a German lawyer and a politician for the Social Democratic Party (SPD).He served as Mayor of Munich from 1960 to 1972, winning the 1972 Summer Olympics for the city and Governing Mayor of West Berlin in 1981, the only German ever to lead two cities with a million+ inhabitants.

He was Federal Minister of Regional Planning, Construction and Urban Development from 1972 to 1974, and Federal Minister of Justice from 1974 to 1981.

He served as leader of the SPD in the Bundestag from 1983 to 1991, and as Leader of the Social Democratic Party from 1987 to 1991.

In 1993, he co-founded the organisation Gegen Vergessen – Für Demokratie (Against Oblivion – For Democracy).He was a member of the National Ethics Council of Germany from its beginning in 2001.


---