Heherson Alvarez
Philippines politician
Died when: 80 years 187 days (966 months)
Star Sign: Libra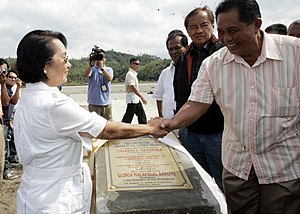 Heherson "Sonny" Turingan Alvarez (October 26, 1939 – April 20, 2020) was a politician from the Philippines.He served as a member of the House of Representatives of the Philippines and the Senate of the Philippines.

He was also Minister (then Secretary) of Agrarian Reform from 1986 to 1987 and Secretary of Environment and Natural Resources from 2001 to 2002.

He was a young activist who participated in the 1971 constitutional convention.He refused to sign the Ferdinand Marcos regime backed constitution that gave extensions to the president's term in office.

He fled with his family to the US leaving the Philippines behind as martial law took its toll on opposition activists.

While in exile, he was one of the organizers of the Free Philippines movement that supported his friend and opposition leader, Senator Benigno "Ninoy" Aquino Jr.

After Aquino was assassinated, the Philippine leadership changed as Corazon Aquino, the wife of Benigno Aquino Jr., took power after the successful "People Power Revolution".

He returned to the Philippines in 1986 to partake in rebuilding the government in the wake of collapse of the Marcos regime.

He won a senatorial seat, representing Isabela province's 4th district, in the post-revolution government of President Corazon Aquino.He served two terms 1987 to 1998 and 1998–2001.

Senator Alvarez also held two cabinet positions - Secretary of Agrarian Reform (February 7, 1987 – March 7, 1987) and Secretary of Environment and Natural Resources (March 29, 2001 – December 13, 2002).

He was known as staunch environmentalist as he was called "Mr.Environment" during his term as Environmental Secretary.Moreover, as a senator, he authored the resolution to make April 22 of every year as "Earth Day" in the Philippines.

From 2010 to 2016, he served as commissioner and vice chair of the Climate Change Commission.


---