Heinrich Brüning
German politician
Died when: 84 years 124 days (1012 months)
Star Sign: Sagittarius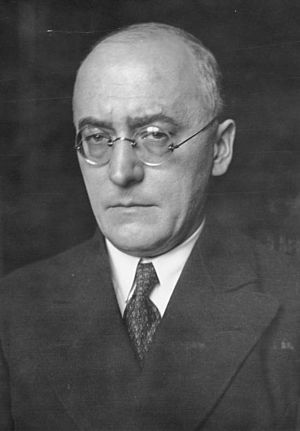 Heinrich Aloysius Maria Elisabeth Brüning () (26 November 1885 – 30 March 1970) was a German Centre Party politician and academic, who served as the chancellor of Germany during the Weimar Republic from 1930 to 1932.

A political scientist and Christian social activist with a PhD on the implications of nationalizing the British railway system, he entered politics in the 1920s and was elected to the Reichstag in 1924.

Shortly after Brüning took office as Chancellor on 30 March 1930 he was confronted by an economic crisis caused by the Great Depression.

Brüning responded with a tightening of credit and a rollback of all wage and salary increases.These policies increased unemployment and made Brüning highly unpopular, losing him support in the Reichstag.

As a result, Brüning established a so-called presidential government, basing his government's authority on presidential emergency decrees invoking President Paul von Hindenburg's constitutional powers.

Brüning announced his cabinet's resignation on 30 May 1932, after his policies of distributing land to unemployed workers had led him into conflict with the President and the Prussian land owners, and the President therefore had refused to sign further decrees.

Fearing arrest after the Nazi regime's ascent to power, Brüning fled Germany in 1934.After staying in Switzerland and the United Kingdom, he eventually settled in the United States.

He lived in difficult economic conditions for his first years as a refugee from Nazism, but became a visiting professor at Harvard University in 1937 and was the Lucius N.

Littauer Professor of Government at Harvard from 1939 to 1952.He warned the American public about Hitler's plans for war, and later about Soviet aggression and plans for expansion.

He briefly returned to Germany in 1951 to take up a post as professor of political science at the University of Cologne, but returned to the United States in 1955 and lived out his days in retirement in Vermont.

He became a member of the American Academy of Arts and Sciences in 1938.Brüning remains a controversial figure in Germany's history, as historians debate whether he was the 'last bulwark of the Weimar Republic' or the 'Republic's undertaker', or both.

Scholars are divided over how much room for manoeuvre he had during the depression and period of great political instability.

While he intended to protect the Republic's government, his policies, notably his use of emergency powers, also contributed to the gradual demise of the Weimar Republic during his chancellorship.


---