Henrik, Prince Consort of Denmark
Consort of the Danish monarch
Died when: 83 years 247 days (1004 months)
Star Sign: Gemini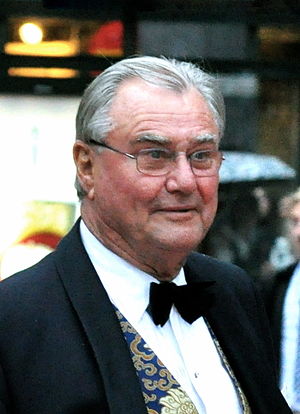 Prince Henrik of Denmark (Danish pronunciation: [ˈhenˀʁek]; born Henri Marie Jean André de Laborde de Monpezat; 11 June 1934 – 13 February 2018) was the husband of Margrethe II of Denmark.

He served as her royal consort from Margrethe's accession on 14 January 1972 until his death.Henrik was born in the French commune of Talence near Bordeaux to an old French family, the Laborde de Monpezats.

He spent his early years in Tonkin in French Indochina (now part of Vietnam), where his family had lived for many years.

The family spent the Second World War at the family home in Cahors, France.They returned to French Indochina after the war.

However, they were forced to flee following the defeat of the French in the First Indochina War.After completing his education in France and Vietnam, Henrik served in the French Army during the Algerian War.

Prior to his marriage to Margrethe, he worked in the diplomatic service.He married Margrethe at the Holmen Church on 10 June 1967 and became her prince consort when she succeeded her father, King Frederick IX, as monarch of Denmark on 14 January 1972.

He had two sons, Crown Prince Frederik (born 1968) and Prince Joachim (born 1969), and eight grandchildren.Throughout his time as prince consort, Henrik voiced his displeasure with never being granted the title of king.

A keen winemaker, Henrik produced his own wine at his estate in France.He also published many works of poetry.

He was the first male consort to a Danish monarch.Henrik retired from his royal duties on 1 January 2016, at the age of 81.

He died at Fredensborg Palace on 13 February 2018, after a short illness.


---