Edward Kennedy
United States Senator
Died when: 77 years 184 days (930 months)
Star Sign: Pisces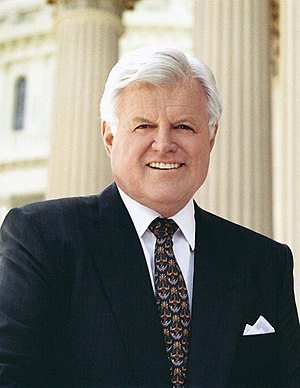 Edward Moore "Ted" Kennedy (February 22, 1932 – August 25, 2009) was an American lawyer and politician who served as a U.S.Senator from Massachusetts for almost 47 years, from 1962 until his death in 2009.

A member of the Democratic Party and the Kennedy political family, he was the second most senior member of the Senate when he died and is the fourth-longest-continuously-serving senator in United States history.He was the younger brother of John F.

Kennedy and Robert F.Kennedy, and was the father of Congressman Patrick J.Kennedy.After attending Harvard University and receiving his law degree from the University of Virginia, he began his career as an assistant district attorney in Suffolk County, Massachusetts.

Kennedy was 30 years old when he first entered the Senate following a November 1962 special election in Massachusetts to fill the vacant seat previously held by his brother John, who had taken office as the president.

He was elected to a full six-year term in 1964 and was later re-elected seven more times.The Chappaquiddick incident in 1969 resulted in the death of his automobile passenger, Mary Jo Kopechne.

He pleaded guilty to a charge of leaving the scene of an accident and later received a two-month suspended sentence.

The incident and its aftermath hindered his chances of ever becoming president.His only attempt, in the 1980 election, resulted in a Democratic primary campaign loss to the incumbent president, Jimmy Carter.

Kennedy was known for his oratorical skills.His 1968 eulogy for his brother Robert and his 1980 rallying cry for modern American liberalism were among his best-known speeches.

He became recognized as "The Lion of the Senate" through his long tenure and influence.Kennedy and his staff wrote more than 300 bills that were enacted into law.

Unabashedly liberal, Kennedy championed an interventionist government that emphasized economic and social justice, but he was also known for working with Republicans to find compromises.

Kennedy played a major role in passing many laws, including the Immigration and Nationality Act of 1965, the National Cancer Act of 1971, the COBRA health insurance provision, the Comprehensive Anti-Apartheid Act of 1986, the Americans with Disabilities Act of 1990, the Ryan White AIDS Care Act, the Civil Rights Act of 1991, the Mental Health Parity Act, the S-CHIP children's health program, the No Child Left Behind Act, and the Edward M.

Kennedy Serve America Act.During the 2000s, he led several unsuccessful immigration reform efforts.Over the course of his Senate career, Kennedy made efforts to enact universal health care, which he called the "cause of my life." By the later years of his life, Kennedy had come to be viewed as a major figure and spokesman for American progressivism.

He died on August 25, 2009, of a malignant brain tumor (Glioblastoma) at his home in Hyannis Port, Massachusetts, and was buried near his brothers John and Robert at Arlington National Cemetery.


---