Hosni Mubarak
President of Egypt
Died when: 91 years 297 days (1101 months)
Star Sign: Taurus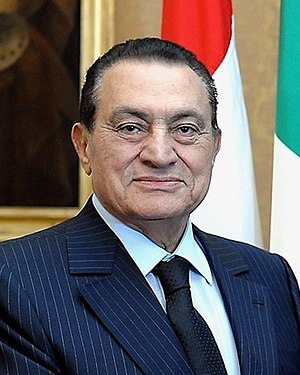 Muhammad Hosni El Sayed Mubarak (4 May 1928 – 25 February 2020) was an Egyptian military and political leader who served as the fourth president of Egypt from 1981 to 2011.

Before he entered politics, Mubarak was a career officer in the Egyptian Air Force.He served as its commander from 1972 to 1975 and rose to the rank of air chief marshal in 1973.

He assumed the presidency after President Anwar Sadat's assassination in 1981.Mubarak's presidency lasted almost thirty years, making him Egypt's longest-serving ruler since Muhammad Ali Pasha, who ruled the country for 43 years from 1805 to 1848.

Mubarak stepped down during the Egyptian Revolution of 2011 after 18 days of demonstrations.On 11 February 2011, former Vice President Omar Suleiman announced that Mubarak and he had resigned as president and vice president respectively and transferred authority to the Supreme Council of the Armed Forces.

On 13 April 2011, a prosecutor ordered Mubarak and both of his sons (Alaa and Gamal) to be detained for 15 days of questioning about allegations of corruption and abuse of power.

Mubarak was then ordered to stand trial on charges of negligence for failing to halt the killing of peaceful protesters during the revolution.

These trials began on 3 August 2011.On 2 June 2012, an Egyptian court sentenced Mubarak to life imprisonment.After sentencing, he was reported to have suffered a series of health crises.

On 13 January 2013, Egypt's Court of Cassation (the nation's high court of appeal) overturned Mubarak's sentence and ordered a retrial.On retrial, Mubarak and his sons were convicted on 9 May 2015 of corruption and given prison sentences.

Mubarak was detained in a military hospital while his sons were freed 12 October 2015 by a Cairo court.He was acquitted on 2 March 2017 by the Court of Cassation and was released on 24 March 2017.

Mubarak died on 25 February 2020, aged 91.He received a military burial at a family plot outside Cairo.


---