Barbara Bush
First Lady of the United States
Died when: 92 years 313 days (1114 months)
Star Sign: Gemini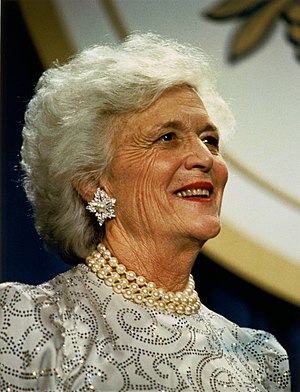 Barbara Pierce Bush (June 8, 1925 – April 17, 2018) was the first lady of the United States from 1989 to 1993 as the wife of President George H.

W.Bush, and the founder of the Barbara Bush Foundation for Family Literacy.She previously was the second lady of the United States from 1981 to 1989.

Among her six children are George W.Bush, the 43rd president of the United States, and Jeb Bush, the 43rd governor of Florida.

She and Abigail Adams are the only two women to be married to one U.S. president and the mother of another.

Barbara Pierce was born in Manhattan, New York City.She met George Herbert Walker Bush at the age of sixteen, and the two married in Rye, New York in 1945, while he was on leave during his deployment as a Naval officer in World War II.

They moved to Texas in 1948, where George later began his political career.


---