Ingmar Bergman
Swedish stage and film director
Died when: 89 years 16 days (1068 months)
Star Sign: Cancer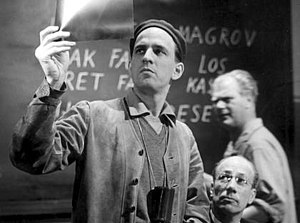 Ernst Ingmar Bergman (14 July 1918 – 30 July 2007) was a Swedish film director, screenwriter, producer and playwright.Universally ranked among the most accomplished and influential filmmakers of all time, Bergman's most prominent works include The Seventh Seal (1957), Wild Strawberries (1957), Persona (1966), Scenes from a Marriage (1973), and Fanny and Alexander (1982).

Bergman directed more than 60 films and documentaries for cinematic release and for television screenings, most of which he also wrote.

His theatrical career continued in parallel and included periods as Leading Director of the Royal Dramatic Theatre in Stockholm and of the Residenztheater in Munich.

He directed more than 170 plays.He forged a creative partnership with his cinematographers Gunnar Fischer and Sven Nykvist.Among his company of actors were Harriet Andersson, Bibi Andersson, Liv Ullmann, Gunnar Björnstrand, Erland Josephson, Ingrid Thulin, and Max von Sydow.

Most of his films were set in Sweden, and many films from Through a Glass Darkly (1961) onward were filmed on the island of Fårö.

Philip French referred to Bergman as "one of the greatest artists of the 20th century ... he found in literature and the performing arts a way of both recreating and questioning the human condition." Director Martin Scorsese commented that "it's impossible to overestimate the effect that [his] films had on people." Bergman was ranked 8th in director's poll on Sight & Sound's 2002 list of The Greatest Directors of All Time.


---