Ingvar Kamprad
IKEA founder
Died when: 91 years 303 days (1101 months)
Star Sign: Aries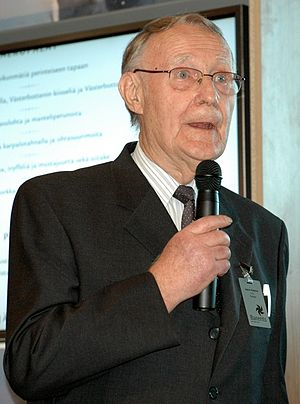 Feodor Ingvar Kamprad (Swedish: [ˈɪ̌ŋːvar ˈkǎmːprad] (); 30 March 1926 – 27 January 2018) was a Swedish billionaire business magnate best known for founding IKEA, a multinational retail company specialising in furniture.

He lived in Switzerland from 1976 to 2014.Kamprad was born in Pjätteryd (now part of Älmhult Municipality), Kronobergs län, in Småland, Sweden, to Feodor Kamprad (1893–1984) and Berta Linnea Matilda Nilsson (1903–1956).

His mother was of Swedish origin, while his father was born in Germany and came to Sweden at age one with his parents.

Kamprad's paternal grandfather Achim Erdmann Kamprad was originally from Altenburger Land in Thuringia, and his paternal grandmother Franzisca ("Fanny") Glatz was born in Radonitz (Radonice) in Bohemia in then-Austria-Hungary; they left Germany for Sweden in 1896.

The surname Kamprad was a variant of "Comrade" and dates back to the 14th century; in the 19th century the Kamprad family had become wealthy estate owners in Thuringia.

Achim Kamprad's mother was a distant relative of Paul von Hindenburg.Achim was the younger son of an estate owner and had bought the farm Elmtaryd (presently standardized Älmtaryd) near the small village of Agunnaryd (now part of Ljungby Municipality) in the province of Småland; with 449 hectares of land it was the largest farm in the area.

He committed suicide a few years after Frans Feodor was born, leaving the farm to Franzisca and with time Franz Feodor.

Ingvar Kamprad lived on the farm with his parents, sister and grandmother from the age of 6.Kamprad visited his family's ancestral town in Thuringia and kept in contact with relatives there.


---