Jack Bruce
Scottish singer-songwriter, musician and composer
Died when: 71 years 164 days (857 months)
Star Sign: Taurus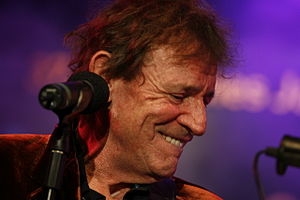 John Symon Asher Bruce (14 May 1943 – 25 October 2014) was a Scottish bassist, singer-songwriter, musician and composer.He gained popularity as the primary lead vocalist and ‍bassist ‍of British rock band Cream.

After the group disbanded in 1968, he pursued a solo career and also played with several bands.In the early 1960s Bruce joined the Graham Bond Organisation (GBO), where he met his future bandmate Ginger Baker.

After leaving the band, he joined with John Mayall & the Bluesbreakers, where he met Eric Clapton, who also became his future bandmate.

His time with the band was brief.In 1966, he formed Cream with lead guitarist Clapton and drummer Baker; he co-wrote many of their songs (including "Sunshine of Your Love", "White Room" and "I Feel Free") with poet/lyricist Pete Brown.

After the group disbanded in the late 1960s he began recording solo albums.His first solo album, Songs for a Tailor, released in 1969, was a worldwide hit.

Bruce formed his own band to perform the material live, and subsequently formed a blues-rock band West, Bruce and Laing in 1972, with ex- Mountain guitarist Leslie West and ex- Mountain drummer Corky Laing.

His solo career spanned several decades.From the 1970s to the 1990s he played with several bands as a touring member.

He reunited with Cream in 2005 for concerts at the Royal Albert Hall and at Madison Square Garden in New York.

Bruce is considered to be one of the most important and influential ‍bassists ‍of all time. ‍Rolling Stone magazine readers ranked him number eight on their list of "10 ‍Greatest ‍Bassists ‍Of All Time".

He was inducted in the Rock and Roll Hall of Fame in 1993, and was awarded the Grammy Lifetime Achievement Award in 2006, both as a member of Cream.


---