Philip Seymour Hoffman
American actor
Died when: 46 years 194 days (558 months)
Star Sign: Leo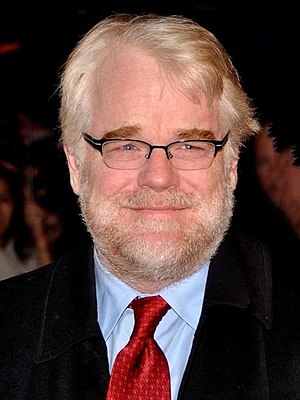 Philip Seymour Hoffman (July 23, 1967 – February 2, 2014) was an American actor.Known for his distinctive supporting and character roles—typically lowlifes, eccentrics, underdogs, and misfits—he acted in many films and theatrical productions, including leading roles, from the early 1990s until his death in 2014.

Hoffman was drawn to theater in his youth after attending a stage production of Arthur Miller's All My Sons at age 12.

He studied acting at New York University's Tisch School of the Arts and began his screen career in a 1991 episode of Law & Order, starting to appear in films in 1992.

He gained recognition for his supporting work, notably in Scent of a Woman (1992), Twister (1996), Boogie Nights (1997), Patch Adams (1998), The Big Lebowski (1998), Magnolia (1999), The Talented Mr.

Ripley (1999), Almost Famous (2000), and Along Came Polly (2004).He began to occasionally play leading roles, and for his portrayal of the author Truman Capote in Capote (2005), he won the Academy Award for Best Actor.

Hoffman's profile continued to grow and he received three nominations for the Academy Award for Best Supporting Actor for his performances as a brutally frank CIA officer in Charlie Wilson's War (2007), a Catholic priest accused of pedophilia in Doubt (2008), and the charismatic leader of a Scientology-type movement in The Master (2012).

While he mainly worked in independent films, including The Savages (2007) and Synecdoche, New York (2008), Hoffman also appeared in Flawless (1999), and Hollywood blockbusters such as Twister (1996), Mission: Impossible III (2006), and in one of his final roles, as Plutarch Heavensbee in the Hunger Games series (2013–2015).

The feature Jack Goes Boating (2010) marked his debut as a filmmaker.Hoffman was also an accomplished theater actor and director.

He joined the off-Broadway LAByrinth Theater Company in 1995, where he directed, produced, and appeared in numerous stage productions.His performances in three Broadway plays—True West in 2000, Long Day's Journey into Night in 2003, and Death of a Salesman in 2012—all led to Tony Award nominations.

Hoffman struggled with drug addiction as a young adult and relapsed in 2012 after many years of abstinence.In February 2014, he died of combined drug intoxication.

Remembered for his fearlessness in playing reprehensible characters, and for bringing depth and humanity to such roles, Hoffman was described in his New York Times obituary as "perhaps the most ambitious and widely admired American actor of his generation".


---