Rene Lacoste
French tennis player
Died when: 92 years 102 days (1107 months)
Star Sign: Cancer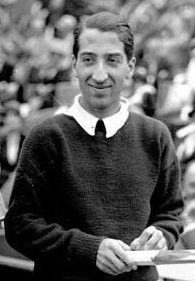 Jean René Lacoste (French pronunciation: ​[ʒɑ̃ ʁəne laˈkɔst]; 2 July 1904 – 12 October 1996) was a French tennis player and businessman.

He was nicknamed "the Crocodile" by the press after they learned of a wager Lacoste made with the French Davis Cup captain, who promised Lacoste a crocodile-skin handbag if Lacoste won; he is also known worldwide as the creator of the Lacoste tennis shirt, which he introduced in 1929.Lacoste was one of The Four Musketeers with Jean Borotra, Jacques Brugnon, and Henri Cochet, French tennis stars who dominated the game in the 1920s and early 1930s.

He won seven Grand Slam singles titles at the French, American, and British championships and was an eminent baseline player and tactician of the pre-war period.

As a member of the French team, Lacoste won the Davis Cup in 1927 and 1928.Lacoste was the World No. 1 player for both 1926 and 1927.


---