Jean Kennedy Smith
American diplomat
Died when: 92 years 118 days (1107 months)
Star Sign: Aquarius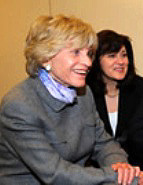 Jean Ann Kennedy Smith (February 20, 1928 – June 17, 2020) was an American diplomat, activist, humanitarian, and author who served as United States Ambassador to Ireland from 1993 to 1998.

She was a member of the Kennedy family, the eighth of nine children and youngest daughter born to Joseph P.

Kennedy and Rose Fitzgerald.Her siblings included President John F.Kennedy, Senator Robert F.Kennedy, Senator Edward M.Kennedy, Rosemary Kennedy, and Special Olympics founder Eunice Kennedy Shriver.

She was also a sister-in-law of Jacqueline Kennedy.As Ambassador to Ireland, Smith was reportedly instrumental in the Northern Ireland peace process as President Bill Clinton's representative in Dublin.

She was heavily criticized after urging the U.S.State Department to grant a visa to Sinn Féin President Gerry Adams, although her family said this step influenced the Provisional IRA in its declaration of a ceasefire in 1994.

However, Adams has said it was President Clinton who led the Northern Ireland peace process and that during the process, Smith relied on advice from an influential Belfast priest.

President of Ireland Mary McAleese conferred honorary Irish citizenship on Smith in 1998 in recognition of her service to the country.

Smith was the founder of Very Special Arts (VSA), an internationally recognized non-profit dedicated to creating a society where people with disabilities can engage with the arts.

In 2011, she was awarded the Presidential Medal of Freedom, the highest civilian honor in the United States, by President Barack Obama for her work with VSA and with people with disabilities.


---