Joe Frazier
American boxer
Died when: 67 years 299 days (813 months)
Star Sign: Capricorn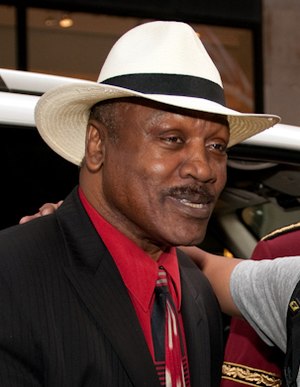 Joseph William Frazier (January 12, 1944 – November 7, 2011), nicknamed "Smokin' Joe", was an American professional boxer who competed from 1965 to 1981.He was known for his strength, durability, formidable left hand, and relentless pressure fighting style and was the first boxer to defeat Muhammad Ali.

Frazier reigned as the undisputed heavyweight champion from 1970 to 1973 and as an amateur won a gold medal at the 1964 Summer Olympics.

Frazier emerged as the top contender in the late 1960s, defeating opponents that included Jerry Quarry, Oscar Bonavena, Buster Mathis, Eddie Machen, Doug Jones, George Chuvalo, and Jimmy Ellis en route to becoming undisputed heavyweight champion in 1970, and he followed up by defeating Ali by unanimous decision in the highly anticipated Fight of the Century in 1971.

Two years later, Frazier lost his title to George Foreman.Frazier fought on and beat Joe Bugner, lost a rematch to Ali, and beat Quarry and Ellis again.

Frazier's last world title challenge came in 1975, but he was beaten by Ali in the brutal rubber match, the Thrilla in Manila.

Frazier retired in 1976 after a second loss to Foreman but made a comeback in 1981.He fought just once before retiring for good, finishing his career with a record of 32 wins, 4 losses, and 1 draw.

The International Boxing Research Organization rates Frazier among the ten greatest heavyweights of all time.The Ring magazine named him Fighter of the Year in 1967, 1970, and 1971, and the Boxing Writers Association of America (BWAA) named him Fighter of the Year in 1969, 1971, and 1975.

In 1999, The Ring ranked him the eighth greatest heavyweight.He is an inductee of both the International Boxing Hall of Fame and the World Boxing Hall of Fame, having been a part of the inaugural induction class of 1990 for the IBHF.

His style was often compared with that of Henry Armstrong and occasionally Rocky Marciano and was dependent on bobbing, weaving, and relentless pressure to wear down his opponents.

His best-known punch was a powerful left hook, which accounted for most of his knockouts.In his career, he lost to only two fighters, both former Olympic and world heavyweight champions: twice to Muhammad Ali and twice to George Foreman.

After retiring, Frazier made cameo appearances in several Hollywood movies and two episodes of The Simpsons.His son Marvis became a boxer and was trained by Joe Frazier himself.

Marvis lost a title shot to heavyweight champion Larry Holmes in 1983 and was knocked out in the first round by an up-and-coming Mike Tyson in 1986.

Marvis ended his career with a record of 19 wins and those 2 losses.Frazier's daughter Jacqui Frazier-Lyde also boxed professionally and is a former WIBA world light-heavyweight champion who ended her career with a record of 13 wins and 1 loss, with her sole loss coming in a majority-decision-points loss to Laila Ali, Ali's daughter, in a fight dubbed as "Ali–Frazier IV".

Frazier continued to train fighters in his gym in Philadelphia.His attitude towards Ali in later life was largely characterized by bitterness and contempt but was interspersed with brief reconciliations.

Frazier was diagnosed with liver cancer in late September 2011 and admitted to hospice care.He died of complications from the disease on November 7, 2011.


---