Johann Sedlatzek
German musician
Died when: 76 years 126 days (916 months)
Star Sign: Sagittarius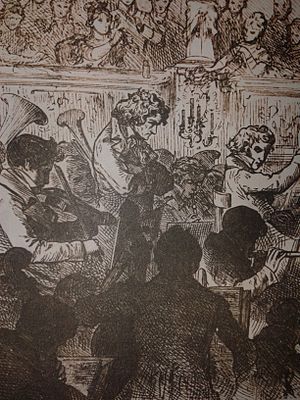 Johann Jean Sedlatzek (also Johann John Sedlaczek; 6 December 1789 – 11 April 1866) was a Silesian flautist born in Głogówek (Oberglogau), Kingdom of Prussia, into a family of tailors, often referred to as "The Niccolò Paganini of Flute".

After beginning his career in the family trade as an apprentice to parents Johanna and Josephy, Sedlatzek taught himself to play flute and eventually toured throughout Europe as an admired master of the instrument, playing on a unique thirteen-key Viennese flute.

Sedlatzek served in the Royal Court Orchestra of Count Franz von Oppersdorff of Oberglogau and as Royal Chamber Virtuoso to Prince Paul III Anton Esterházy of Austria.

He also gave several successful concert tours through Germany, Switzerland, Italy, France, and England as featured performer.During his tour of Italy, Sedlatzek not only survived the Palermo earthquake of 1823 (which canceled his second performance in Sicily), he also performed for the King of Prussia, Frederick William III of the Order of the Black Eagle, in Verona, for Pope Pius VII in Rome, and played alongside violin virtuoso Niccolò Paganini in Genoa.

His Paris tour of 1826 included performances with the Italian Soprano Giuditta Pasta, with whom he would perform again, along with other prominent musicians, after his move to London.

Johann Sedlatzek was a friend and collaborator to Ludwig van Beethoven and played several times with the universally known composer; most notably as the principal flautist in the world-premier of Beethoven's Symphony No. 9 in Vienna's Kärntnertortheater in 1824 under the direction of Beethoven himself.


---