Johannes d'Outrein
Dutch theologian
Died when: 59 years 130 days (712 months)
Star Sign: Libra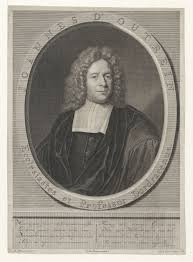 Johannes d'Outrein (Jan d'Outrein) (17 October 1662 in Middelburg – 24 February 1722 in Amsterdam) was a Dutch preacher, writer and author of evangelical theological works.

He studied in Franeker, where he earned his doctorate in 1682.He was a preacher in in 1685, Franeker in 1687, Arnhem in 1691, Dordrecht in 1703 and Amsterdam in 1708, where he died in 1722.

He was a prominent exponent of the Cocceian movement, and Friedrich Adolph Lampe was one of his disciples.Outrein believed that God was "the alliance God of the Netherlands, of his chosen people, who are gathered there and live there".


---