Johannes Theodor Baargeld
German artist
Died when: 34 years 312 days (418 months)
Star Sign: Libra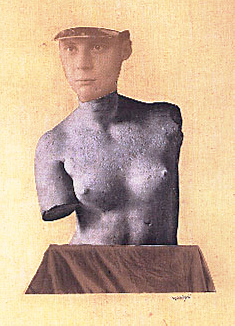 Johannes Theodor Baargeld was a pseudonym of Alfred Emanuel Ferdinand Grünwald (9 October 1892 – 16 or 17 August 1927), a German painter and poet who, together with Max Ernst, founded the Cologne Dada group.

He also used the name Zentrodada in connection with Dada.Baargeld was born in Stettin (Szczecin), Prussian Pomerania.He studied jurisprudence at Oxford and Bonn.

Baargeld was the editor of the periodical The Fan (Der Ventilator) which Ernst and Hans Arp started in 1919, and he collaborated on many other Dadaist publications such as Bulletin D and Dada W/3.


---