John B. McKay
USAF/NASA test pilot and astronaut
Died when: 52 years 140 days (628 months)
Star Sign: Sagittarius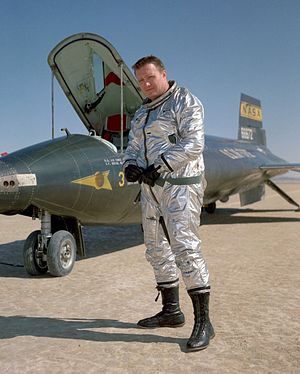 John Barron McKay (December 8, 1922 – April 27, 1975) was an American naval officer, World War II pilot, aeronautical engineer, test pilot, and astronaut.

He was one of twelve pilots who flew the North American X-15, an experimental spaceplane jointly operated by the United States Air Force and NASA.

On September 28, 1965, he flew the X-15 to an altitude above 50 miles, thereby qualifying as an astronaut according to the United States definition of the boundary of space.

However, this altitude did not surpass the Kármán line, the internationally accepted boundary of 100 kilometers (62 miles).On November 9, 1962, McKay was injured when forced to make an emergency landing in the X-15-2, the second of three planes in the X-15 fleet.

The craft rolled over, and McKay suffered crushed vertebrae.Subsequently, the damaged plane was refurbished to become the X-15A-2, a modified variant.

Although McKay returned to flight as an X-15 pilot, his injuries contributed to an early death.He died on April 27, 1975.


---