John McCririck
English TV horse racing pundit
Died when: 79 years 79 days (950 months)
Star Sign: Aries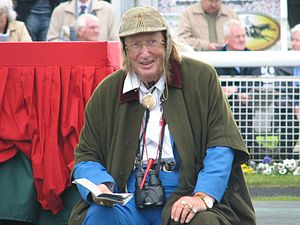 John Michael McCririck (17 April 1940 – 5 July 2019) was an English horse racing pundit, television personality and journalist.McCririck began his career at The Sporting Life, where he twice won at the British Press Awards for his campaigning journalism, but his role was terminated in 1984.

In 1981, he joined ITV Sport's horse racing coverage which moved, during 1984 and 1985, to Channel 4 as Channel 4 Racing.In October 2012, the channel announced that he would be dropped from its team, which McCririck blamed on ageism and took the matter to an employment tribunal, but lost the case.

From the 1980s, McCririck appeared as a contestant on numerous television shows, including Bullseye, You Bet!, Celebrity Big Brother, Weakest Link, Wife Swap, Celebrity Poker Club and After Dark.


---