Johnny Antonelli
American baseball player
Died when: 89 years 322 days (1078 months)
Star Sign: Aries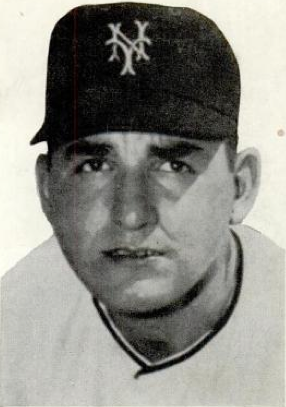 John August Antonelli (April 12, 1930 – February 28, 2020) was an American professional baseball player, a left-handed starting pitcher who played for the Boston / Milwaukee Braves, New York / San Francisco Giants, and Cleveland Indians between 1948 and 1961.

Noted at the outset of his pro career as the recipient of the biggest bonus in baseball history when he signed with the Braves for $52,000 in 1948, he later became a six-time National League All-Star, a two-time 20-game-winner, and an important member of the 1954 World Series champion Giants' pitching staff.

He batted left-handed, stood 6 feet 1 inch (1.85 m) tall and weighed 185 pounds (84 kg).He was the first person born in the 1930s to make his MLB debut.

Born in Rochester, New York, his hometown for most of his life, Antonelli was a sought-after pitcher for Jefferson High School.

Signed by the Braves in 1948, he spent the next three seasons on their roster, never pitching more than 96 innings in a single season, before serving in the United States Army for two years during the Korean War.

After one more year with the Braves in 1953, he was traded to the Giants before the 1954 season.The Giants had to give up popular outfielder Bobby Thomson in the deal, but Antonelli won 21 games, leading the National League (NL) in earned run average (ERA) (2.30) and winning percentage (.750) as the Giants won the NL pennant.

In the World Series against the Indians, he outpitched Hall of Famer Early Wynn in Game 2 and got the save in Game 4 as New York swept the series.

Arm troubles bothered him in 1955, but he won 20 games for a sixth-place team in 1956, the first of four straight years he would be selected to the NL All-Star Team.

After the Giants moved to San Francisco to begin the 1958 season, Antonelli won 16 games and 19 games his first two years with the ballclub.

He led the NL in shutouts again in 1959 and set a career-high with 282 innings pitched, but fans started booing him after he complained about the wind conditions at Seals Stadium.

In 1960, he was moved to the bullpen, accruing 11 saves before pitching one final season with the Giants and Indians in 1961.

He was slated to be one of the original New York Mets in 1962, but he retired instead, opting to return to Rochester and focus on his Firestone business, which he would run for 40 years.


---