Johnny Haynes
English footballer
Died when: 71 years 1 days (852 months)
Star Sign: Libra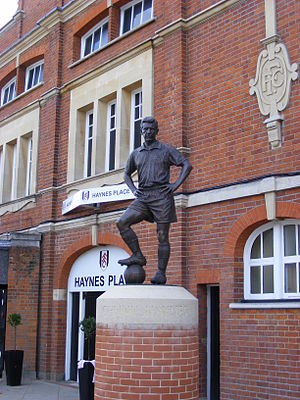 John Norman Haynes (17 October 1934 – 18 October 2005) was an English association football player.He made 56 appearances for his country including 22 as captain.

He was selected for 3 World Cup finals squads playing in the latter two of those.Nicknamed "the Maestro", his attacking play was noted for two-footed passing ability, vision and deftness of touch.

Haynes is widely regarded as Fulham's greatest ever player, remaining loyal there for 20 years despite coming no nearer to a major trophy win than two FA Cup semi-final appearances.

Immediately following the abolition of the £20 maximum wage in 1961, he became the first player to be paid £100 a week.

He also had a spell on loan with Toronto City in 1961 and ended his playing days at Durban City, winning there the only trophy he won in his football career.


---