Mary Dresselhuys
Dutch actor
Died when: 97 years 118 days (1167 months)
Star Sign: Aquarius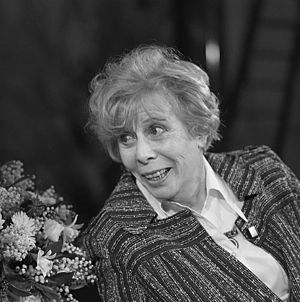 Mary Dresselhuys (January 22, 1907 – May 19, 2004) was a Dutch stage actress, although she appeared in a few movies as well.She was born in Tiel, the Netherlands, and died in Amsterdam.

Mary Dresselhuys played more than 150 roles during her long career.She played a wide range of roles, but got most known as the Queen of Comedy.

She performed till high age.After she turned 80, she asked Paul Haenen to write a play (Een bijzonder prettig vergezicht) in which she and her daughter Petra played.

At the age of 85 she played a part in the movie Eline Vere, and at 90, she was on stage again, where she, together with Paul Haenen, looked back at her career.


---