Edward Brooke
US Senator
Died when: 95 years 69 days (1142 months)
Star Sign: Scorpio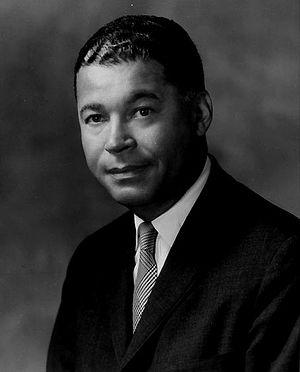 Edward William Brooke III (October 26, 1919 – January 3, 2015) was an American politician of the Republican Party, who represented Massachusetts in the United States Senate from 1967 until 1979.

Prior to serving in the Senate, he served as the Attorney General of the Commonwealth of Massachusetts from 1963 until 1967.Following his election in 1966, he became the first African American popularly elected to the United States Senate.

Born to a middle-class black family, Brooke was raised in Washington, D.C.He graduated from the Boston University School of Law in 1948, after serving in the United States Army during World War II.

Beginning in 1950, he became involved in politics, when he ran for a seat in the Massachusetts House of Representatives.After serving as chairman of the Finance Commission of Boston, Brooke was elected attorney general in 1962, becoming the first African-American to be elected attorney general of any state.

He served as attorney general for four years, before running for Senate in 1966.In the election, he defeated Democratic Governor Endicott Peabody in a landslide, and was seated on January 3, 1967.

In the Senate, Brooke aligned with the liberal faction in the Republican party.He co-wrote the Civil Rights Act of 1968, which prohibited housing discrimination.

He was re-elected to a second term in 1972, after defeating attorney John Droney.Brooke became a prominent critic of Republican President Richard Nixon, and was the first Senate Republican to call for Nixon's resignation in light of the Watergate scandal.

In 1978, he ran for a third term, but was defeated by Democrat Paul Tsongas.After leaving the Senate, Brooke practiced law in Washington, D.C., and was affiliated with various businesses and nonprofit organizations.

Brooke died on January 3, 2015, at his home in Coral Gables, Florida, at the age of 95.


---