Ju-Yung Chung
Hyundai Founder
Died when: 85 years 57 days (1021 months)
Star Sign: Sagittarius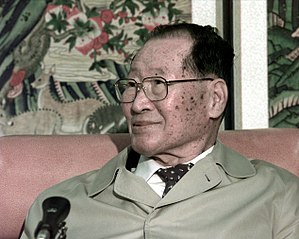 Chung Ju-yung or Jung Joo-young (Korean: 정주영;November 25, 1915 – March 21, 2001), was a South Korean entrepreneur, businessman and the founder of Hyundai Groups of South Korea.

Raised as the eldest son of a poor Korean farmer, he became the richest man in South Korea.Chung was an integral part to the rapid development of Korea's economy, growing Hyundai Heavy Industries to be the largest ship builder in the world, as well as growing Hyundai Motor Group into the largest automobile manufacturer in Korea, and the third largest in the world.

Chung was also a vital contributor to the development of South Korea's infrastructure after the Korean War's destruction of infrastructure, such as constructing the Gyeongbu Expressway in 1970, connecting the capital, Seoul, to the port city of Busan, in alliance with the President Park Chung Hee.

Chung's business ventures steered through the tumultuous times of Japanese colonial rule in Korea as well as the post-Korean War stresses on the economy.Chung explained his success in his statement: "Our people succeeded because they devoted their enterprising spirits.

They used the forces of other mind.Conviction ... creates indomitable efforts.This is the key to (true) miracles ...Man's potential is limitless."


---