Charles Evers
American civil rights activist
Died when: 97 years 315 days (1174 months)
Star Sign: Virgo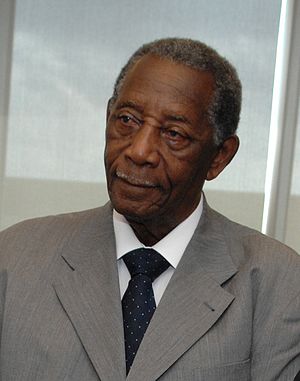 James Charles Evers (September 11, 1922 – July 22, 2020) was an American civil rights activist, businessman, disc jockey, and politician.Evers was known for his role in the civil rights movement along with his younger brother Medgar Evers.

After serving in World War II, Evers began his career as a disc jockey at WHOC in Philadelphia, Mississippi.In 1954, he was made the National Association for the Advancement of Colored People (NAACP) State Voter Registration chairman.

After his brother's assassination in 1963, Evers took over his position as field director of the NAACP in Mississippi.In this role, he organized and led many demonstrations for the rights of African Americans.

In 1969, Evers was named "Man of the Year" by the NAACP.On June 3, 1969, Evers was elected in Fayette, Mississippi, as the first African-American mayor in Mississippi since the Reconstruction era, following passage of the Voting Rights Act of 1965 which enforced constitutional rights for citizens.

At the time of Evers's election as mayor, the town of Fayette had a population of 1,600 of which 75% was African-American and almost 25% white; the white officers on the Fayette city police "resigned rather than work under a black administration," according to the Associated Press.

Evers told reporters "I guess we will just have to operate with an all-black police department for the present.But I am still looking for some whites to join us in helping Fayette grow." Evers then outlawed the carrying of firearms within city limits.

He ran for governor in 1971 and the United States Senate in 1978, both times as an independent candidate.In 1989, Evers was defeated for re-election after serving sixteen years as mayor.

In his later life, he became a Republican, endorsing Ronald Reagan in 1980, and more recently Donald Trump in 2016.This diversity in party affiliations throughout his life was reflected in his fostering of friendships with people from a variety of backgrounds, as well as his advising of politicians from across the political spectrum.

After his political career ended, he returned to radio and hosted his own show, Let's Talk.In 2017, Evers was inducted into the National Rhythm & Blues Hall of Fame for his contributions to the music industry.


---