Junko Tabei
Japanese mountaineer
Died when: 77 years 28 days (924 months)
Star Sign: Libra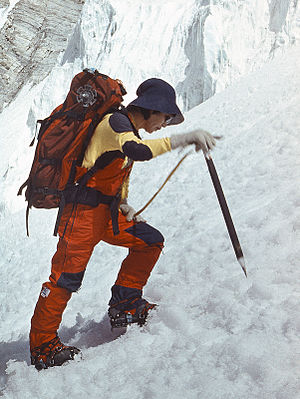 Junko Tabei (田部井 淳子, Tabei Junko, born Junko Ishibashi; 22 September 1939 – 20 October 2016) was a Japanese mountaineer, author, and teacher.

She was the first woman to reach the summit of Mount Everest and the first woman to ascend the Seven Summits, climbing the highest peak on every continent.

Tabei wrote seven books, organized environmental projects to clean up rubbish left behind by climbers on Everest, and led annual climbs up Mount Fuji for youth affected by the Great East Japan Earthquake.

An astronomer had named asteroid 6897 Tabei after her and in 2019, a mountain range on Pluto was named Tabei Montes in her honour.


---