Kanaiyalal Maneklal Munshi
Indian politician
Died when: 83 years 40 days (997 months)
Star Sign: Capricorn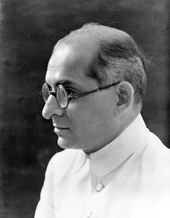 Kanhaiyalal Maneklal Munshi (pronounced [kə.nəi.ya.lal ma.ɳek.lal mun.ʃi]; 30 December 1887 – 8 February 1971), popularly known by his pen name Ghanshyam Vyas, was an Indian independence movement activist, politician, writer and educationist from Gujarat state.

A lawyer by profession, he later turned to author and politician.He is a well-known name in Gujarati literature.He founded Bharatiya Vidya Bhavan, an educational trust, in 1938.

Munshi wrote his works in three languages namely Gujarati, English and Hindi.Before independence of India, Munshi was part of Indian National Congress and after independence, he joined Swatantra Party.

Munshi held several important posts like member of Constituent Assembly of India, minister of agriculture and food of India, and governor of Uttar Pradesh.

In his later life, he was one of the founding members of Vishva Hindu Parishad.


---