Karel Schwarzenberg
Czech politician
Died when: 85 years 337 days (1031 months)
Star Sign: Sagittarius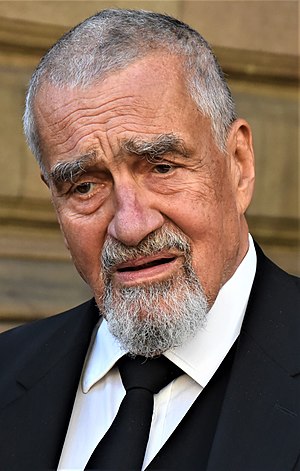 Prince Karel of Schwarzenberg (Czech pronunciation: [ˈʃvartsn̩bɛrk], born 10 December 1937) was a Czech politician, former leader of the TOP 09 party and was its candidate for president of the Czech Republic in the 2013 election.

He served as a member of the Chamber of Deputies (MP) from 2010 to 2021.From July 1990 to July 1992 Schwarzenberg served as the chancellor (director of the presidential office) to Václav Havel, while he was president.

He went on to be elected as Senator for the municipal district Prague 6 from 2004 to 2010 and to serve as Minister of Foreign Affairs of the Czech Republic from 2007 to 2009 and again from 2010 to 2013, originally as a non-partisan minister nominated by the Green Party.

In May 2010, he was elected as a Member of Parliament for the newly founded pro-European centre-right party TOP 09, gaining the largest number of preference votes.

He was candidate for President of the Czech Republic in the 2013 presidential election, and qualified for the second round, finishing as runner-up, with 45.19% of the votes.

Schwarzenberg is noted for his pro-European views.Schwarzenberg has been the head of the House of Schwarzenberg, a formerly leading family of the Habsburg empire, since 1979.

He is related to Prince Felix of Schwarzenberg, a statesman of the Austrian Empire.From 1948 to 1990, he lived in Austria, where he was known as Karl Schwarzenberg, and was involved in politics for the Austrian People's Party and became a noted critic of human-rights violations in the Eastern Bloc, chairing the International Helsinki Federation for Human Rights.

Following the fall of communism, he became a close adviser to Václav Havel and relocated to Prague.He is married to Countess Therese von Hardegg (Therese Countess zu Hardegg auf Glatz und im Machlande) and they have three children, all of whom live in Austria.

His full noble title and style is: His Serene Highness The 12th Prince of Schwarzenberg (First Majorat) and 7th Prince of Schwarzenberg (Second Majorat), Count of Sulz, Princely Landgrave in Klettgau, Duke of Krumlov (Czech: Karel Jan Nepomuk Josef Norbert Bedřich Antonín Vratislav Menas kníže ze Schwarzenbergu;

German: Karl Johannes Nepomuk Josef Norbert Friedrich Antonius Wratislaw Menas Fürst zu Schwarzenberg).


---