Ken Carpenter
American football player
Died when: 84 years 336 days (1019 months)
Star Sign: Pisces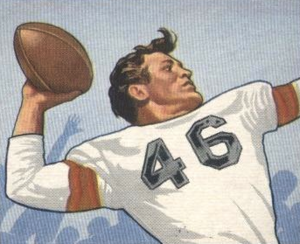 Kenneth Leroy Carpenter (February 26, 1926 – January 28, 2011) was an American football halfback who played for the Cleveland Browns in the National Football League (NFL) the Saskatchewan Roughriders in the Canadian Football League (CFL), and the Denver Broncos in the American Football League (AFL) in the 1950s and 1960.

Following his playing career, Carpenter coached during the 1960s in the CFL, NFL and a variety of smaller leagues in the United States.

Carpenter was from Oregon and became a standout at Oregon State University, where he played between 1946 and 1949.The Browns selected him in the first round of the 1950 draft, making him their first selection since joining the league.

Carpenter played with the Browns between 1950 and 1953, a span during which the team won one NFL championship and played in three more.

He was named to the Pro Bowl in 1951.Carpenter jumped to the CFL in 1954, quickly becoming a star rusher and receiver for the Roughriders.

He led the Western Interprovincial Football Union in scoring in 1955 and won the division's most valuable player award.He was named a divisional all-star in 1955, 1956 and 1958.

Carpenter was named head coach of the Roughriders in 1960, but was not successful in that role.He then returned to playing, spending part of the 1960 season with the Denver Broncos of the new American Football League.

A series of jobs coaching teams in the United Football League, the Continental Football League and Atlantic Coast Football League followed, interrupted by one year as an assistant for the NFL's Washington Redskins in 1968.

After retiring from football, Carpenter worked as the head of recreation at the Indiana Department of Correction.He was inducted into the Oregon Sports Hall of Fame in 1982 and into Oregon State's hall of fame in 1991.


---